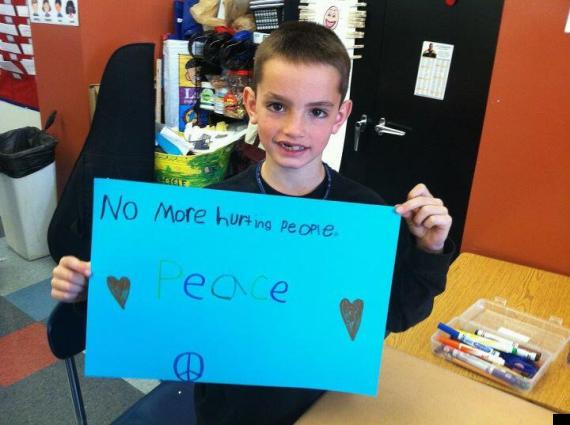 I'm exhausted. Physically.
Because in addition to the horrific and tense events in my city these past several days, my wife has been sick all week (spent half of it in bed). Now we both have some significant on-going sinus junk. And it was school "vacation" week. But now is when I need a vacation...and another week to get all the work done that I should have this week.
I'm exhausted. For Peace.
Because I'm concerned about response after these events. I hope my fellow humans can see the hope of peace, reconciliation, and nonviolent response. Death only begets more death. Creating fear about people groups or religions or even being in a large crowd from hereon will solve nothing.
No one has given more simple and powerful words for all this than eight-year-old Martin Richard himself in the photo above. I hope we can hear him:
No more hurting people. Peace.
But the good Governor of the Commonwealth also spoke some great words yesterday. I hope we can live them:
So, we will recover and repair. We will grieve our losses and heal. We will rise, and we will endure.
We will have accountability, without vengeance.
Vigilance, without fear.
And we will remember, I hope and pray, long after the buzz of Boylston Street is back and the media has turned its attention elsewhere, that
the grace this tragedy exposed is the best of who we are
.
And the cool Cardinal spoke the truth. I hope we can live it:
The Sermon on the Mount, in many ways, is the Constitution of the people called to live a new life. Jesus gives us a new way to deal with offenses, by reconciliation. Jesus gives us a new way to deal with violence, by nonviolence. He gives us a new way to deal with money, by sharing and providing for those in need. Jesus gives us a new way to deal with leadership, by drawing upon the gift of every person, each one a child of God. In the face of the present tragedy, we must ask ourselves what kind of a community do we want to be, what are the ideals that we want to pass on to the next generation.
It cannot be violence, hatred and fear.
Finally, the dude from Tarsus said it well a long time ago:
Bless those who persecute you; bless and do not curse them. Rejoice with those who rejoice, weep with those who weep. Live in harmony with one another; do not be haughty, but associate with the lowly; do not claim to be wiser than you are. Do not repay anyone evil for evil, but take thought for what is noble in the sight of all. If it is possible, so far as it depends on you, live peaceably with all. Beloved, never avenge yourselves, but leave room for the wrath of God; for it is written, 'Vengeance is mine, I will repay, says the Lord.' No, 'if your enemies are hungry, feed them; if they are thirsty, give them something to drink; for by doing this you will heap burning coals on their heads.'
Do not be overcome by evil, but overcome evil with good.